All Articles
15. 08. 2022
What is MEMS?
Discover how Grand Seiko develops highly efficient movements.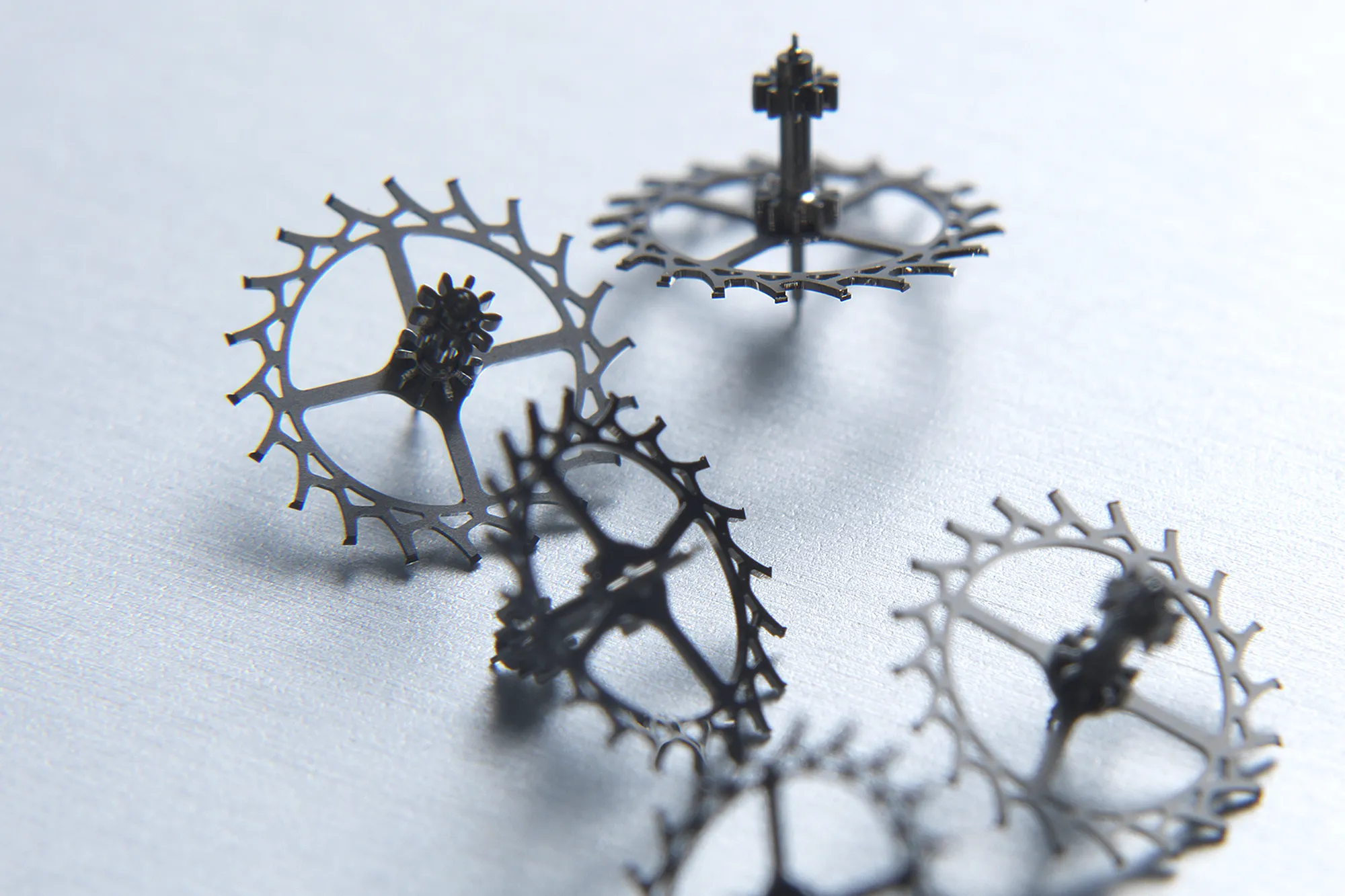 Grand Seiko has pioneered numerous technologies and manufacturing processes to produce its timepieces as a vertically integrated manufacturer. One such fabrication technology is MEMS or Micro-Electro-Mechanical Systems. A type of electroforming lithography, MEMS, was adapted from the production of semiconductors. It allows Grand Seiko to produce high-precision microstructures that would otherwise be impossible through traditional machine cutting.
Given how small calibers are—and not to mention their components—a seemingly modest improvement in a movement's physical structure can significantly impact its overall efficiency. With hundreds of individual elements, mechanical watches must have a near-perfect consistency in the detail of these parts to ensure the accuracy of the movement.
To that end, some manufacturers have turned to silicon to produce precision parts. While silicon has many benefits, silicon is not without its shortcomings, namely its brittle nature and inability to be adjusted by the hands of a watchmaker. Due to that weakness, Grand Seiko instead focuses on producing nickel alloy parts and employs MEMS to manufacture its nickel escape wheels and pallet forks, focusing on their overall weight, form, and smoothness.
A Grand Seiko is designed to be a watch you spend a lifetime with; the movement's durability is the first priority, as well as precision. We use Spron, a metal alloy, for the hairspring. Watch journalists often ask us if Grand Seiko will use a silicon spring. We have studied silicon, but it is fragile and can be broken, therefore losing its function completely. If the metal spring is worn, it may function worse, but it still works and is not lost 100%.
Unlike more traditionally produced components, Grand Seiko's escape wheels and pallet forks feature a skeletonized structure, reducing their weight and improving energy efficiency. Furthermore, to address long-term wear, particularly in the case of Hi-Beat calibers, MEMS allows Grand Seiko to utilize an escape wheel with a unique step at the end of each tooth in the escape wheel. These little pockets allow for greater oil retention, which reduces friction. Due to its more prolonged course of distribution compared to a conventional sloped tooth, it helps extend the life of components and reduces energy loss within the watch. To further reduce friction within the movement, MEMS can produce notably smoother surfaces than what is possible through traditional forms of machining and finishing.
MEMS was employed in producing Grand Seiko's first modern 9S Hi-Beat calibers in 2009. Similarly, MEMS was utilized in manufacturing 9SA5, Grand Seiko's next-generation movement first introduced in 2020. The pallet fork and escape wheel are formed in unique shapes, contributing to the movement's high energy efficiency and the dual impulse to the balance wheel. The escape wheel only has eight teeth instead of the conventional 20 and interacts with the pallet fork to deliver energy indirectly, as you would find in a traditional lever escapement. However, it also provides an impulse to the balance through a jewel directly on the balance roller. It is compact in design, lightweight, and highly energy efficient. In addition to the pallet fork and escape wheel, MEMS was responsible for 9SA5's new date change mechanism, specifically the movable date finger that enables a faster date change.