All Articles
18. 01. 2022
Grand Seiko Anniversary Limited Editions SBGE275 and SBGC247
Introducing a pair of Spring Drive watches celebrating the anniversary of the first GS Chronograph and GMT.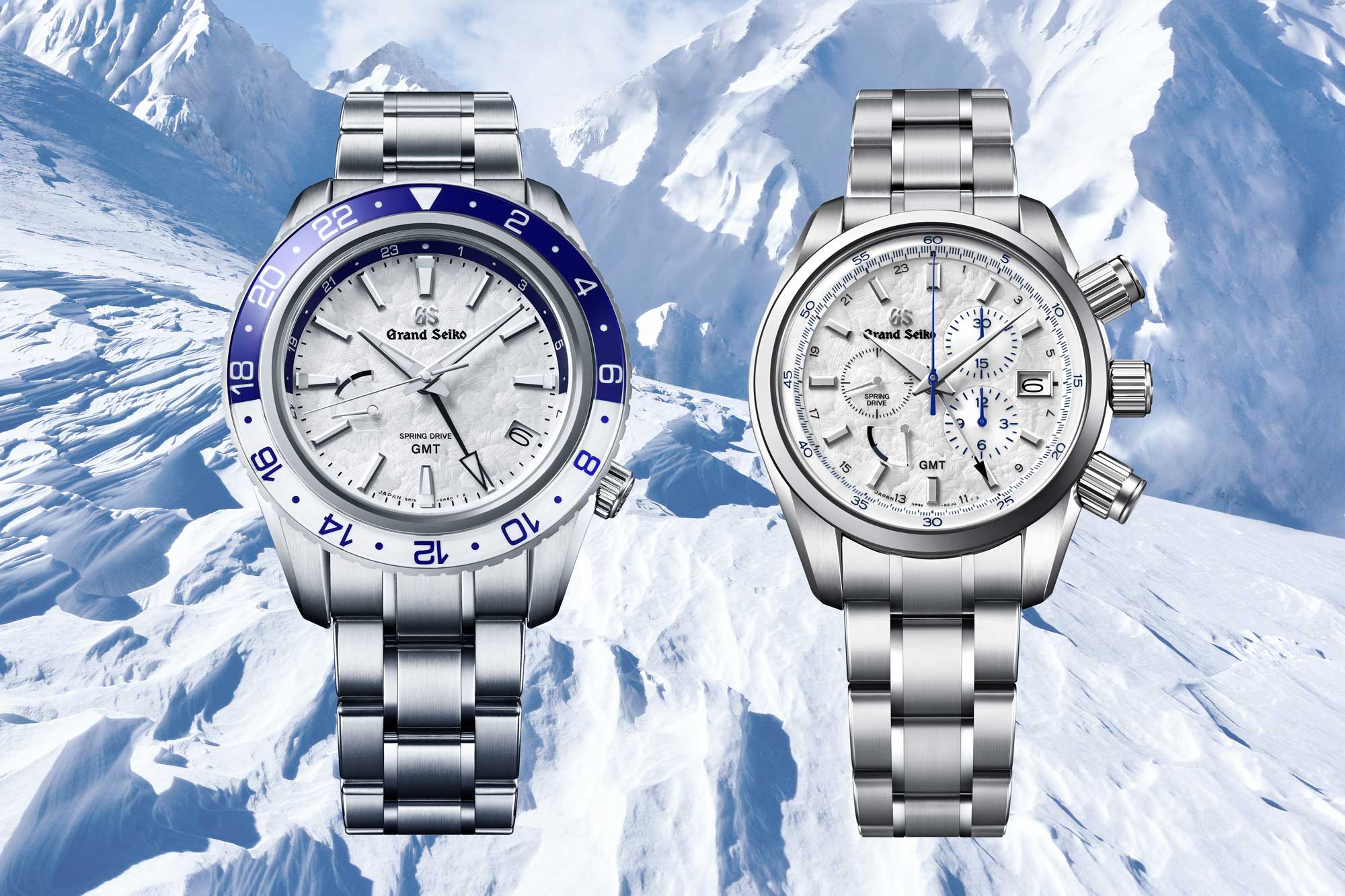 2022 marks the 20th and 15th anniversaries of Grand Seiko's first GMT and first Spring Drive chronograph, respectively. Both technical developments received immediate acclaim and have since been featured in a range of Grand Seiko creations across the catalog. To mark this milestone, Grand Seiko has unveiled two Spring Drive limited edition timepieces—one a GMT and the other a Chronograph GMT, both powered by Spring Drive calibers. Joining the Sport Collection, references SBGE275 and SBGC247 feature dials that take their design inspiration from the wintery snowscapes of the mountains that surround the studio where they are produced in the Shinshu region in central Japan.
Grand Seiko Spring Drive GMT reference SBGE275.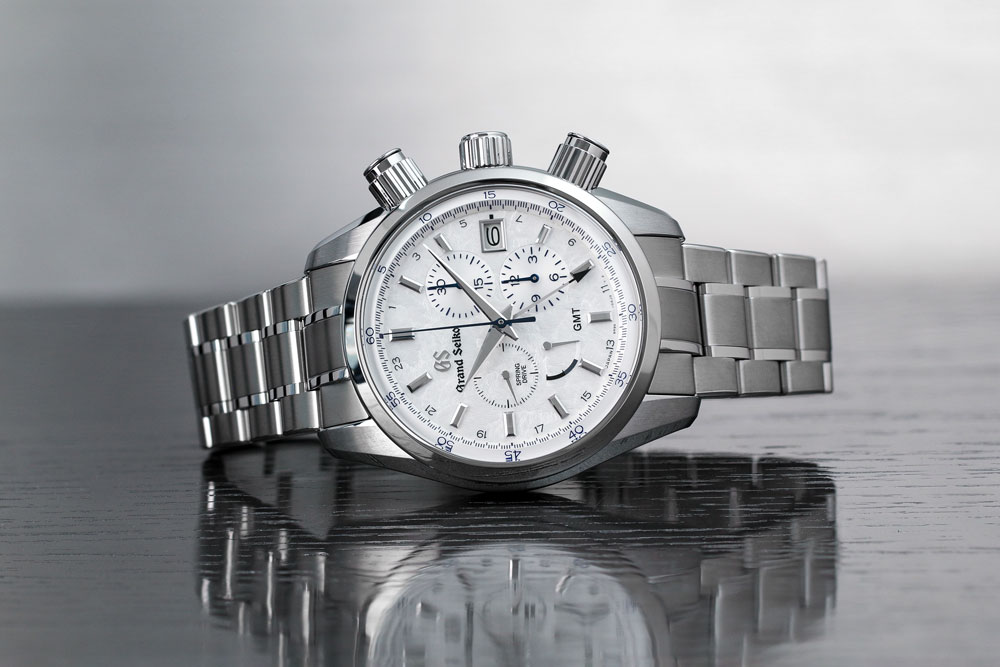 Grand Seiko Spring Drive Chronograph GMT reference SBGC247.
Born in the Mountains of Shinshu
The dial finishing may be familiar to enthusiasts of Grand Seiko. Previously featured on SBGA413, SBGA415, SBGA469, and others, this distinct pattern is now being introduced to the Sport Collection, marking its debut in these two new references. Here, it is rendered in a stark white and, along with accompanying vibrant blue accents, these two dials capture the essence of the snow-covered Hotaka mountains against the bright sky visible through the windows of the Shinshu Watch Studio in late winter and early spring.
The case of SBGE275 is rendered in stainless steel and measures 44mm in diameter and 14.9mm in thickness. It features Grand Seiko's signature Zaratsu finish, with alternating mirror-polished and hairline surfaces across different planes. Despite the larger diameter, the case wears smaller with its down-turned lugs, and the crown is moved from the three o'clock position and offset to four o'clock, which in turn makes the case look smaller along its horizontal axis and allows for a more comfortable fit on the wrist.
The rotating bezel has a durable sapphire overlay (synthetic sapphire, which is the hardest of all known oxide crystals at 2,500-3,000HV, is highly resistant against scratches). Underneath the overlay is an application of LumiBrite, where all the white portions on the bezel glow green in lowlight conditions.
Matching the luminous paint on the bezel, the dial (protected by a dual-curve sapphire crystal) features large indexes with LumiBrite paint on the three, six, nine, and twelve o'clock indexes, as well as on the hours, minutes, and GMT hands. Around the dial is a 24-hour chapter ring, and for the purposes of legibility it has the nighttime hours color-coded blue, and the daytime hours coded white. Along with the bezel, which has its own 24-hour scale, this watch can be used to track three total time zones.
SBGE275 is powered by Spring Drive caliber 9R16, offering a 72-hour power reserve and an accuracy of ±.5 seconds per day. This movement is a true GMT, where the local hour hand is independently adjustable and the GMT hand remains fixed to home time, which is whatever non-local time one would like to track. There is real benefit to this type of functionality. For example, upon arriving to a new location in a different time zone, the wearer can quickly advance the hour hand, which jumps in one-hour increments in either direction, to the appropriate hour without having to reset the watch.
The case of SBGC247 is made from High-Intensity Titanium, and it measures 43.5mm in diameter and 16.1mm in thickness. It features a pleasing mix of mirror-polished and hairline-finished surfaces throughout, which is made possible via the type of titanium alloy used here, as well Grand Seiko's Zaratsu finishing method. High-Intensity Titanium is also notable for its scratch and corrosion resistance, as well as its lightweight nature relative to stainless steel. The case is fitted with a dual curve sapphire topside. There is also a sapphire crystal on the case back offering a view of the 9R96 Spring Drive Chronograph GMT movement inside. The watch is rated to 100m of water resistance, and it has a magnetic resistance rating of 4,8000 A/m, or 60 Gauss.
The dial, despite its many registers and hands, nevertheless remains incredibly legible. This is, in part, due to the unique arrangement of the chronograph functionality. There is a thirty-minute register positioned around two o'clock, a twelve-hour register below that at four, and an active seconds register at nine. Additionally, there is a power reserve indicator around seven. With both chronograph registers arranged vertically in this manner, tracking elapsed time becomes incredibly intuitive. Additionally, the chronograph seconds hand, tempered to a vibrant blue, is color matched to the hands on the two chronograph counters, putting extra emphasis on the feature.
Caliber 9R96 offers an impressive accuracy of ±0.5 seconds per day, and this accuracy remains incredibly high even when the power reserve is low in the mainspring. Furthermore, the movement measures elapsed time to the exact moment and not just nearest fraction of a second, a feature made possible courtesy of the glide motion hand, a feature of Spring Drive, that stops at the very instance the pusher is pressed. Like the above mentioned GMT movement, 9R96 also operates as a true GMT, with the jump-hour functionality and the ability to track two separate time zones.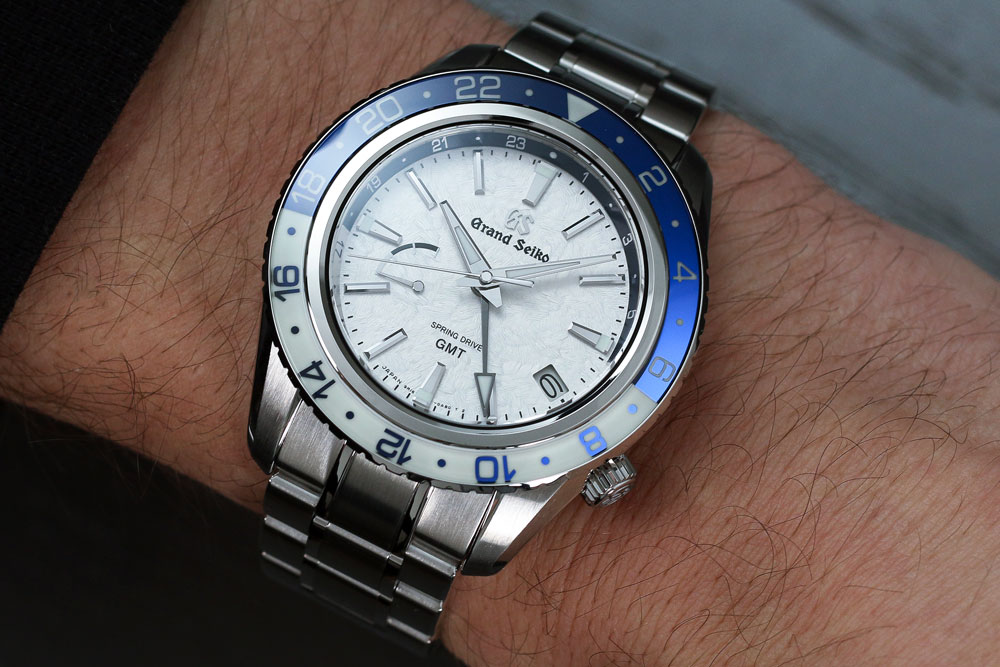 SBGE275 will be available as a limited edition of ­1,500 watches through Grand Seiko Boutiques and select Grand Seiko retailers worldwide in March 2022. SBGC247 will be available as a limited edition of 700 watches and will also be available at Grand Seiko Boutiques and select Grand Seiko retailers worldwide in February 2022.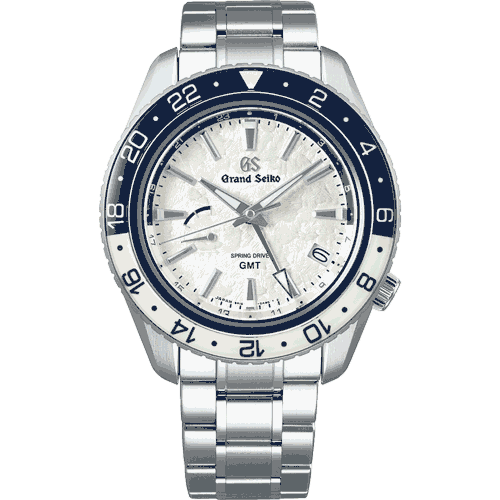 Spring Drive GMT SBGE275
Grand Seiko Sport Collection – Limited Edition
RM 30,000
Spring Drive Chronograph SBGC247
Grand Seiko Sport Collection – Limited Edition
RM 46,000