All Articles
13. 03. 2021
Diving Deep with Ref. SLGA001, Grand Seiko's Newest Professional Diver's Watch
Today, we take a closer look at Grand Seiko's next-generation Spring Drive 9RA5 caliber, and the first watch you can find it in, the deep-diving ref. SLGA001.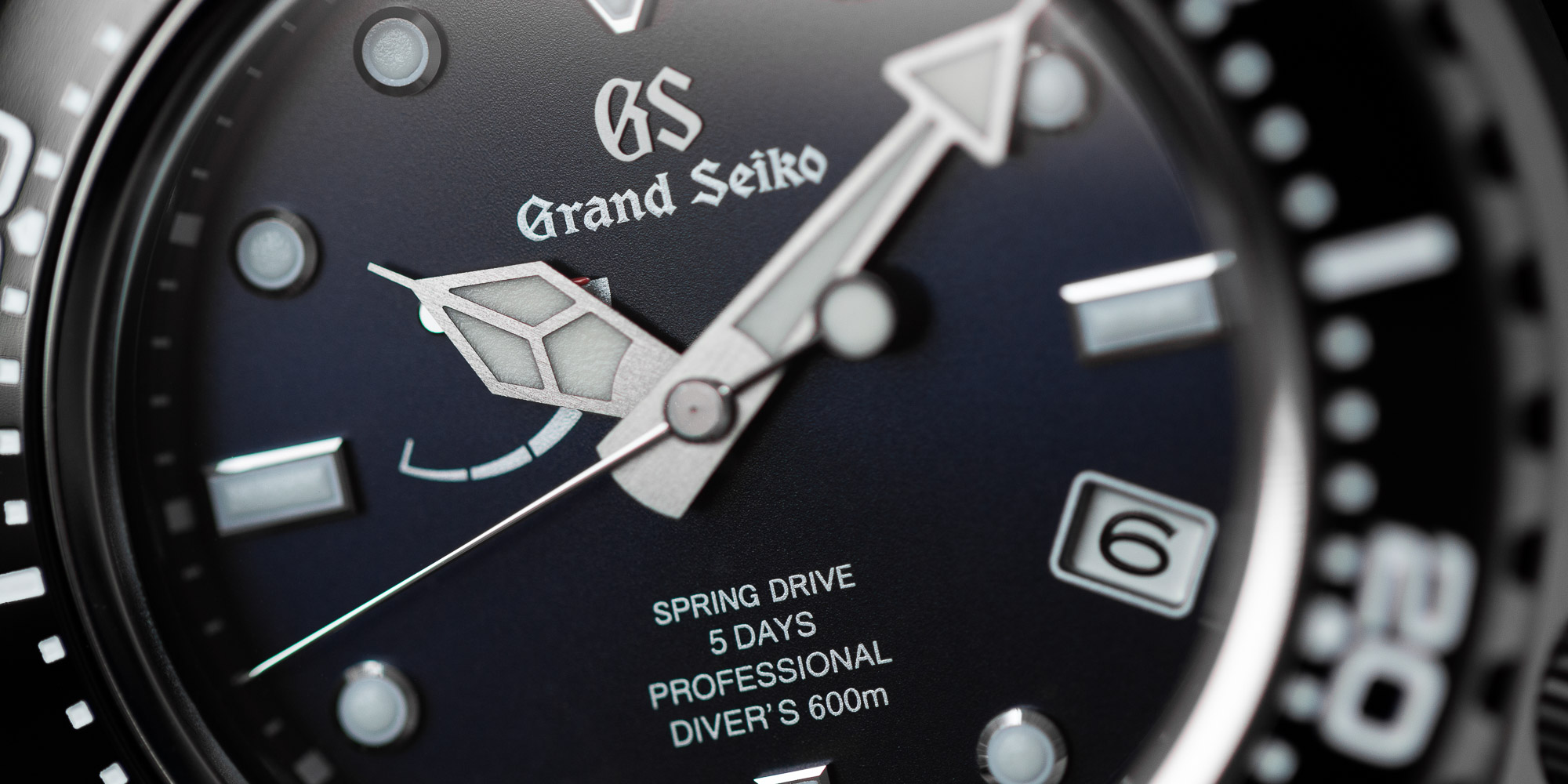 2020 was a seminal year for Grand Seiko. It was the watchmaker's 60th birthday, a significant number in Japanese culture, for when a person turns 60 it is said that they celebrate a Kanreki, or a rebirth. With Grand Seiko celebrating its Kanreki last year, 2020 marked the start of a new era for the Japanese brand.
There was, of course, the opening of Studio Shizukuishi, the new home of Grand Seiko's mechanical movements and watches. The T0 Constant Force Tourbillon concept movement also made headlines last year, both for its impressive technical standing and for the fact that there are no plans to commercialize the movement (GS9 members can read more about T0 and its development here). Then there was the announcement of the new 9SA5 Hi-Beat 36000 caliber, a next-generation mechanical movement that has since seen use in four new Series 9 timepieces (SLGH002, SLGH003, SLG005, and SLGH007). And, of course, there was 9RA5, Grand Seiko's next-gen Spring Drive caliber.
Today, we'll take a closer look at 9RA5 and the first watch to feature it, ref. SLGA001 (please note that the watch featured here is an early prototype).
9RA5 Spring Drive
In 1977, an engineer by the name of Yoshikazu Akahane had a novel idea – to create a mechanical watch, one powered by a mainspring, that could offer one-second-a-day precision courtesy of electro-magnetic regulation. Essentially, the goal was to make something that could combine the high torque and never-ending power source of a mechanical watch with the high precision and stability of quartz. Over 20 years and 600 prototypes later, Akahane's vision, named Spring Drive, was presented to the world.
Developed by Grand Seiko's Shinshu Watch Studio, caliber 9RA5 is Grand Seiko's next-generation Spring Drive movement. Just as we've seen caliber 9SA5 build on what's come before, caliber 9RA5 is notably different from past mainline Spring Drive movements as well.
"Slimness was important to Hiraya and his team when developing 9RA5."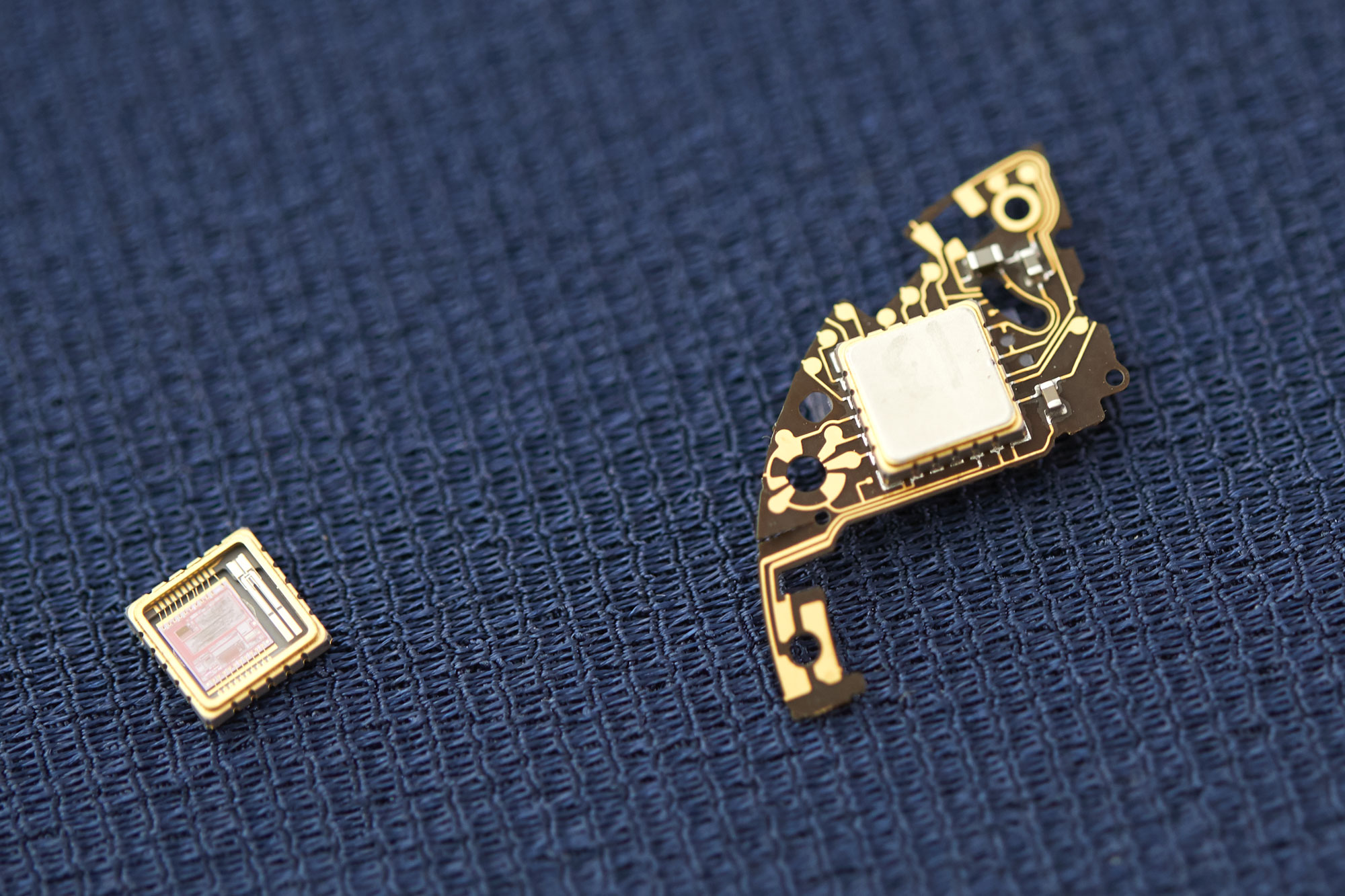 Developed by movement designer Eiichi Hiraya, 9RA5 features a number of important updates and innovations. First, Hiraya and team developed a new IC package (shown here) for the movement. Now thermo-compensated via a shielded thermal sensor, the movement can better measure temperature and ensure that the reading matches the ambient temperature affecting the quartz crystal. Consequently, accuracy is improved to +-0.5 seconds per day, or +-10 seconds per month. Standard Spring Drive offers +-15 seconds per month, which is already highly impressive.
To achieve a longer power reserve, Hiraya implemented the use of dual-size barrels on the same plane in the movement. Because the two barrels are different sizes, they both fit inside the allotted area without sacrificing performance, all the while contributing to the desired thinness of the caliber and a whopping 120-hour, or five-day, power reserve.
It should be noted that slimness was important to Hiraya and his team when developing 9RA5. To trim the movement height, they re-engineered the movement architecture. An Offset Magic Lever was devised to position the mechanism flatter beneath the rotor, which ultimately contributed to removing about .8mm in movement height. Altogether, the movement is 5mm thick, and while this isn't unusual amongst standard three-hand automatic movements, it's important to reiterate the caliber's five-day power reserve, and high quantity of components and construction focused on durability and longevity.
To ensure robustness, a crucial consideration when making any movement thinner, the gear train was tweaked to fit along the central horizontal axis of the movement and locked under a one-piece center bridge. The choice of a one-piece bridge was to better stabilize the wheels in case of shock.
Spring Drive Dives Deep
SLGA001 is Grand Seiko's most technically robust diving package powered by a Spring Drive movement. The case is rated to 600 m, or 2,000 ft, which Grand Seiko achieves without a helium escape valve. This is possible because the case is engineered to prevent intrusion of helium in the first place, so an escape valve isn't necessary. This is, of course, beneficial because it removes a possible fail point in the watch, making SLGA001 that much more reliable as a professional instrument for saturation diving.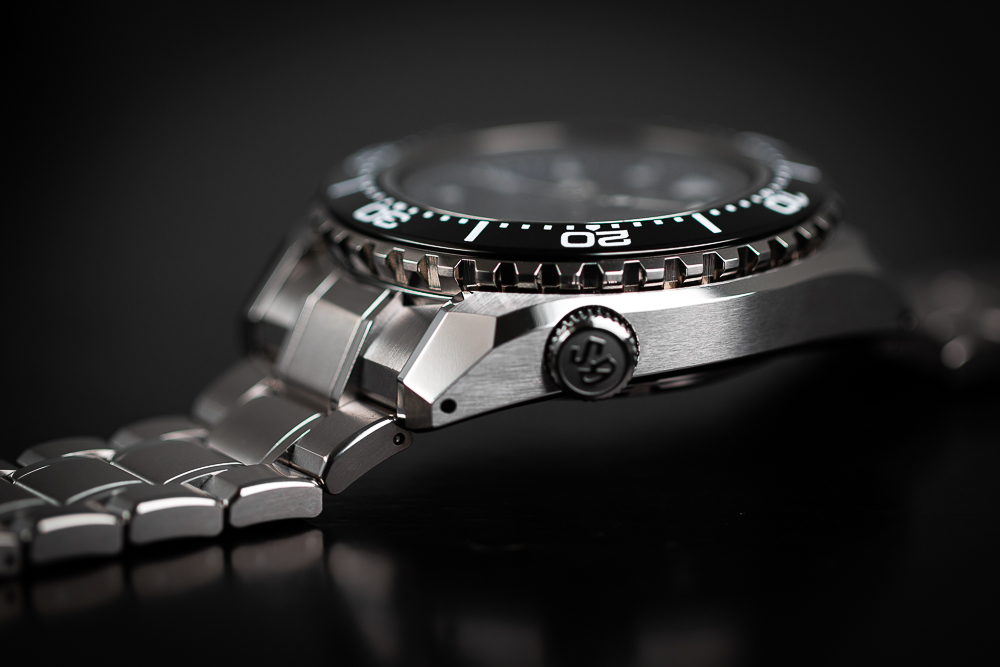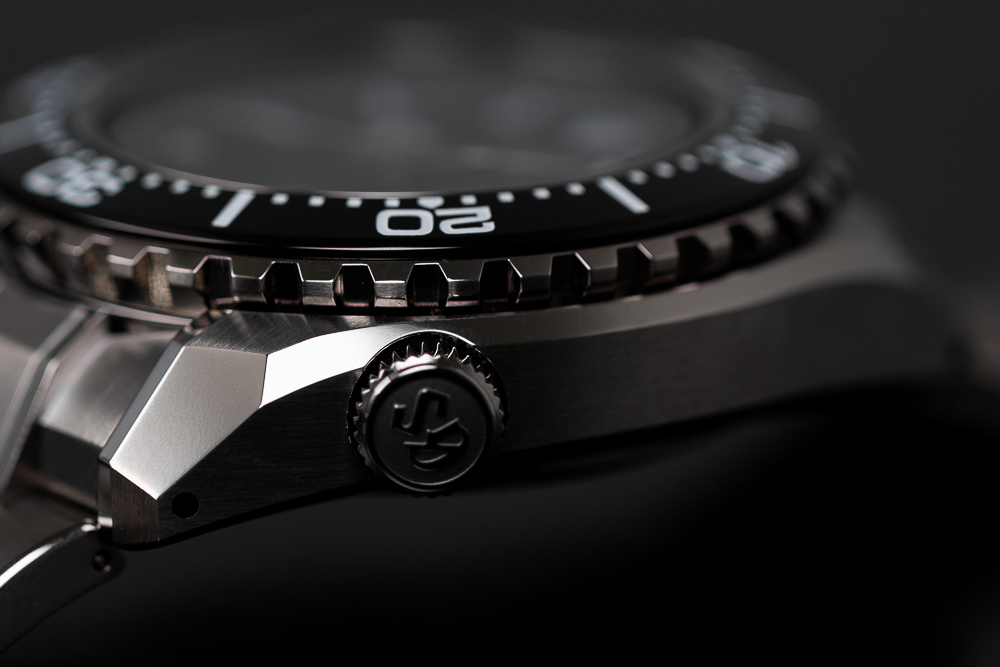 Measuring 46.9mm across and 16mm thick, this is not a diminutive timepiece. That said, the case remains highly versatile, in part due to the restrained lug-to-lug of 50.8mm and the use of High-Intensity Titanium. This is a proprietary alloy that has a high hardness and is lighter (the watch weighs 164g) than standard stainless steel, two excellent qualities for a larger technical diver's watch. Furthermore, the crown positioned at the four o'clock spot on the case keeps it from pressing into the wrist, which further aids in comfort when wearing the watch, especially for long periods of times.
The case is finished with an eye-catching blend of hairline and Zaratsu-polished surfaces, a mix that emphasizes the dramatic, angular case geometry (note the complex faceting along the lugs and case sides). Though it's spec'd like a professional diving instrument, it's finished like a true luxury timepiece. The bezel insert is steel and features a black hard coating to ensure that it doesn't fracture or break. Protecting the dial is a "high-definition" sapphire crystal that is also quite thick, a requirement for deep dives. All of these case elements are designed for easy disassembly and maintenance.
The dark blue dial and hands of SLGA001 put legibility at the forefront. Large indexes filled with luminous compound (Lumibrite) mark the hours, except for the four o'clock spot, which features a date aperture. Large hands make reading the time at a glance a breeze. Fans of Grand Seiko will also note that the power reserve indicator, a staple of most Spring Drive timepieces, is positioned near the nine o'clock marker.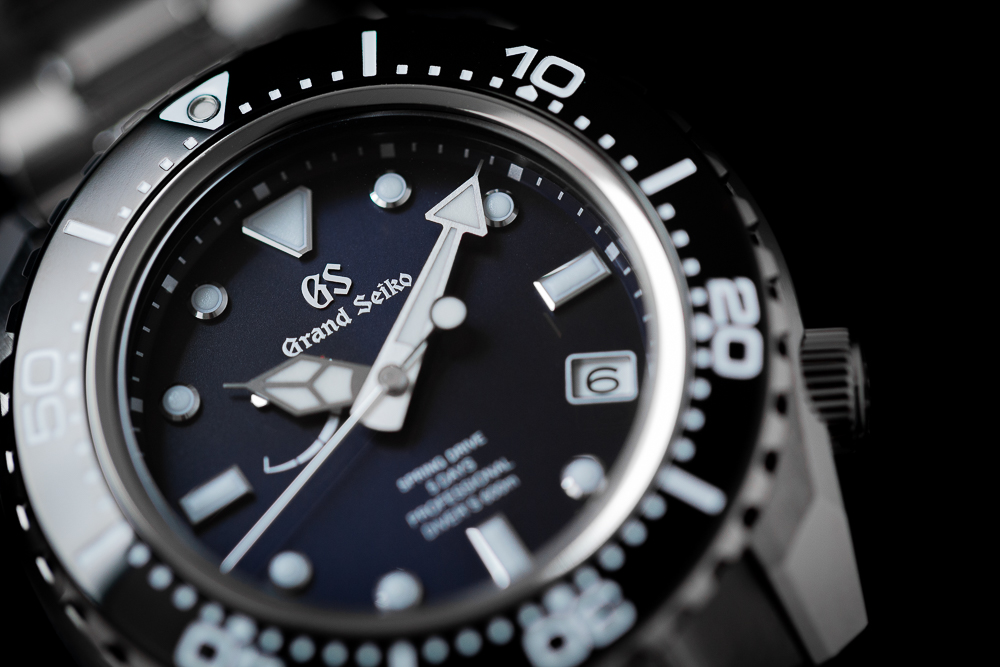 The bracelet features a five-link design and a three-fold clasp with a secure lock, push button release, a slide adjuster, and four points of micro-adjust. This is a highly functional piece of hardware, and designed for comfort below or above water. The slide adjuster can be especially helpful throughout the day when the wearer's wrist expands or contracts. Additionally, SLGA001 comes with an interchangeable blue silicone strap, and the whole set is presented in a special Grand Seiko 60th anniversary box.
---

Case: High-Intensity Titanium
Dimensions: 46.9mm in diameter x 16mm in thickness x 50.8mm in length
Movement: 9RA5 Spring Drive
Availability: Limited edition of 700 pieces; Grand Seiko Authorized Dealers (Master Shops and Salons), Boutiques, and the GS9 Club Shop for members only