All Articles
25. 09. 2021
Powered by 9F, Grand Seiko SBGX347 and SBGX349 "Gekka"
Running on Grand Seiko's high-performing 9F61 quartz caliber, SBGX347 and SBGX349 offer a new form factor that's perfect for both men and women.
Measuring 34mm in diameter, 10.7mm in thickness, and 41.5mm in length, the stainless steel case of SBGX347 and SBGX349 features classic dimensions that harken back to traditional dress watches. The case is inspired by the first ever Grand Seiko men's reference from 1960, featuring a narrow bezel and fitted with a hardwearing box shape sapphire crystal that emulates acrylic crystals from the past. The case also features an 18mm lug width, 30m of water resistance, and weighs just 47 grams on leather.
Grand Seiko's "The Nature of Time" theme features prominently here with a dial inspired by "gekka," which expresses both beautiful moonlight and the color of the night sky.
SBGX347 – "Gekka" Moonlight
The dial is clean, legible, and has a unique texture that attracts and holds the eye. Here, the stark white dial evokes moonlight.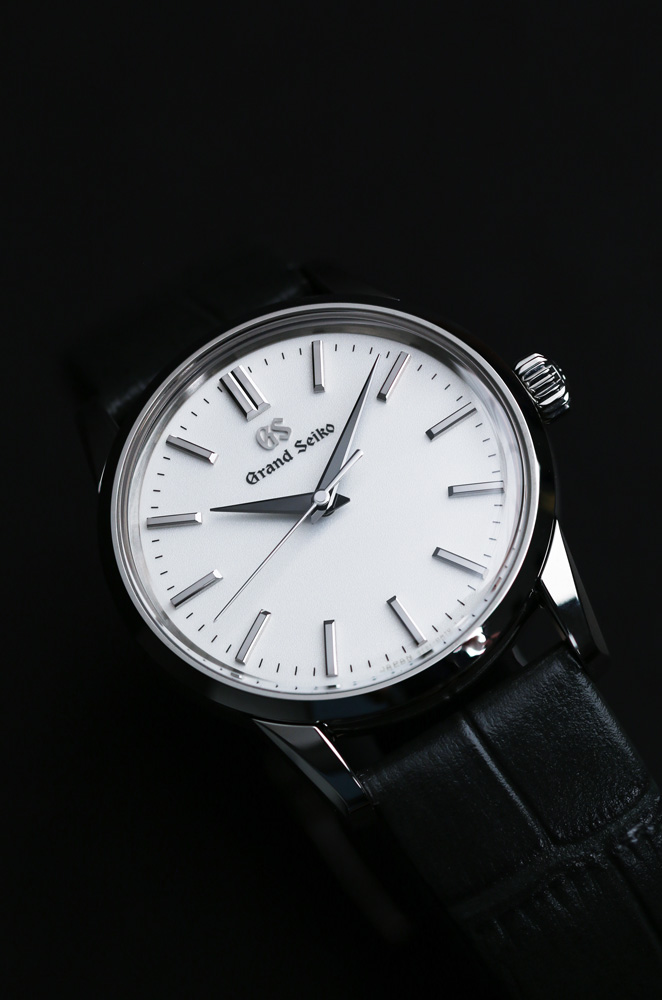 SBGX349 – "Gekka" Night Sky
In contrast, the dial here captures the expanse of the night sky with a dynamic and inky blue coloration.
Both dials feature large, faceted indexes for the hour markers paired with a razor-sharp handset. Printed marks denote the minutes in between each index, and aside from the branding below 12, there is no other overt text on the dial.
Inside is Grand Seiko's high-performing 9F61 quartz caliber. The movement's Twin Pulse Control Motor allows for the use of Grand Seiko's long, heavy hands; a backlash Auto-Adjust Mechanism eliminates any shake of the seconds hand as it advances across the dial; and an aged quartz crystal is paired with an IC that is programmed to respond specifically to that crystal's reaction to temperature changes. Through these innovative features, caliber 9F61 maintains an impressive accuracy of +/-10 seconds a year.
Grand Seiko Elegance Collection
SBGX347 "Gekka"
RM 14,800
Grand Seiko Elegance Collection
SBGX349 "Gekka"
RM 14,800