All Articles
30. 03. 2022
Watches and Wonders: Grand Seiko Kodo Constant Force Tourbillon SLGT003
A horological milestone ten years in the making.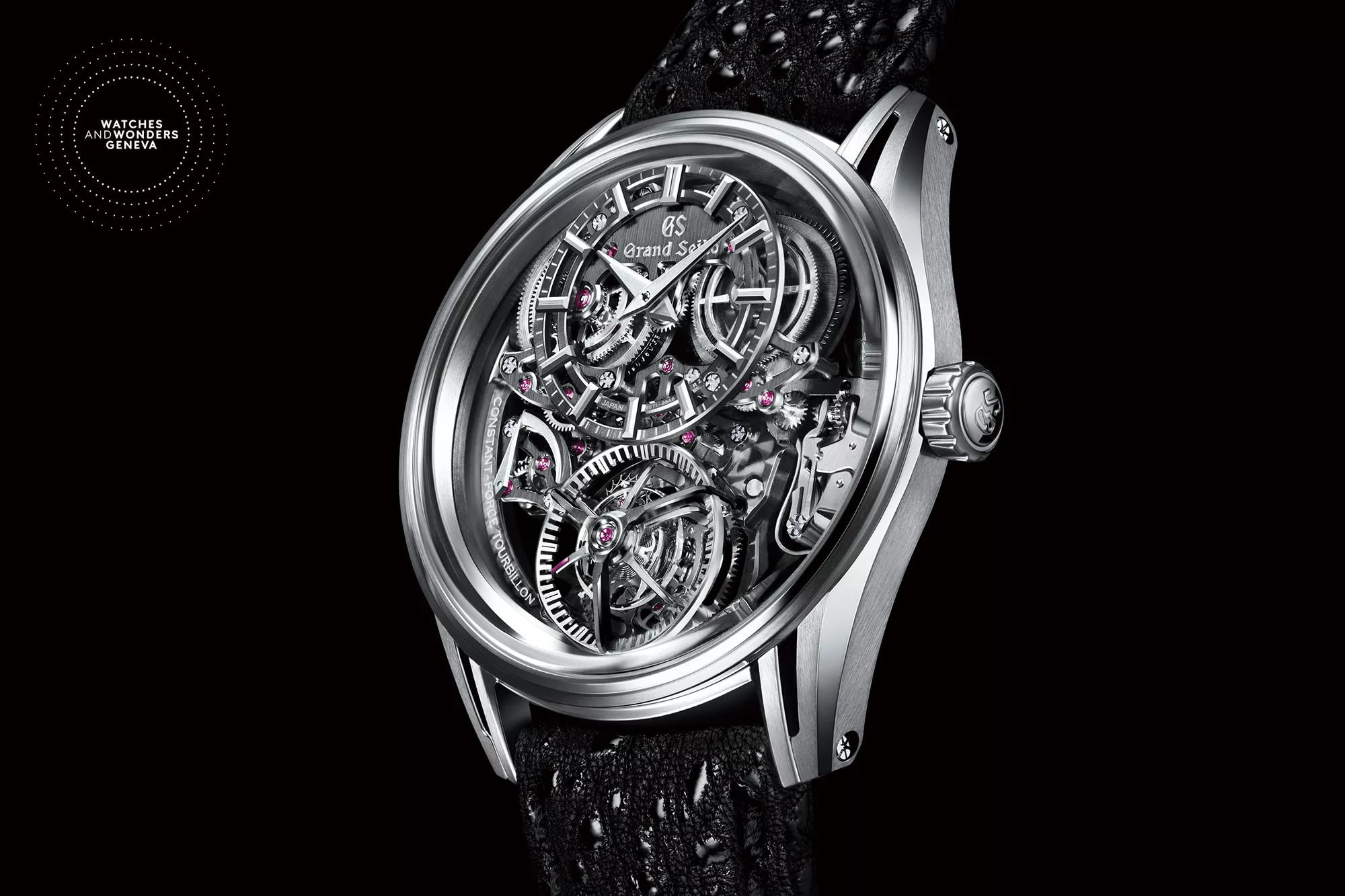 In 2020, Grand Seiko presented the "T0 Constant-force Tourbillon," a multi-patented concept movement that combined a tourbillon and a constant-force mechanism as one unit on a single axis for the very first time in horological history. T0 was praised by voices across the industry, though there was no initial plan to commercialize the concept. Now, two years later and ten years after the inception of T0, Grand Seiko has brought the concept movement to life in a dedicated timepiece called Kodo (Japanese for heartbeat), powered by the new 9ST1 caliber.
A dedicated team of designers, engineers, and craftspeople were tasked with reimagining the original T0 concept. The goal was to ensure Grand Seiko's aesthetics and ultimately create a watch that would be highly wearable and comfortable on the wrist. Every one of the 340 components of the caliber was reconsidered and, where necessary, redesigned, re-engineered, or scaled down for production. Over 90% of components are changed compared to T0, with the resulting caliber 9ST1 as the foundation of Kodo.
Because there are no components between the tourbillon and constant force mechanism, there is no change to the torque transmitted from the constant-force mechanism to the balance wheel. This results in a duration of 50 hours for the constant-force mechanism and a more stable balance amplitude, thereby improving movement accuracy.
Unsurprisingly then, caliber 9ST1 establishes a new standard for accuracy. Each movement is fully wound every 48 hours (as opposed to the typical 24 hours) in each of six positions and at three temperatures. This is twice as long as the Grand Seiko and other industry standards. In total, individual movements are assessed over a period of 34 days, and the performance of each movement is recorded in the individual certificate accompanying every watch.
The operation of the two elements in tandem is visually dazzling. Featuring a largely open design, Kodo highlights the inner workings of the impressive caliber on both sides of the case. Because of this openwork structure, the watch plays with light and shadow in a manner never before seen in a Grand Seiko timepiece.
As the inner tourbillon carriage rotates fully once per 60 seconds, the balance vibrates at 8-beats per second while the outer constant-force carriage follows its rotation at exact one-second intervals. The sounds of the active escapement and the once-per-second impulse of the constant-force mechanism harmonize to create a deeply satisfying and re-assuring heartbeat, hence the name. This produces a unique sound, similar to a musical 16th note.
The case is constructed from both Platinum 950 (inner case) and Grand Seiko's Brilliant Hard Titanium (outer case). The combination of these two case materials is most evident at the tapered end of the lugs, where a small open space adds a unique flair to the overall design. A mix of Zaratsu-polishing and hairline finishing grace each of the different materials, and both processes are completed by hand by highly skilled craftspeople.
With Kodo being a Grand Seiko timepiece, legibility and functionality remain paramount. There's a dedicated sub-dial for timekeeping, where Grand Seiko's broad, faceted dauphine hands immediately draw the eye. The hour hand even has an extra facet at the tip to avoid confusion with the minute hand. You will find the Grand Seiko logo three-dimensionally engraved into the barrel bridge. The constant-force carriage has a ruby on one of its arms, which acts as a small seconds hand. The caliber also features a hacking function to ensure precise timekeeping. And despite its complication, Kodo is suited for daily wear, with the case being rated to 100m of water resistance.
The watch is offered with a Himeji Kurozan calf strap that has been specially treated in the same traditional way Samurai armor once was to enhance durability. Himeji Kurozan has been called the "black diamond of natural leather." To achieve its distinct sheen, the surface of the strap is painted by hand with multiple layers of Urushi lacquer. It comes fitted to a platinum three-fold clasp. The watch also comes with an alternative crocodile strap with crocodile leather on both sides to maximize resistance against moisture.
Kodo was created by a select group of Grand Seiko watchmakers and designers who will be a part of a new studio, Atelier Ginza, to be situated in Ginza, Tokyo, where Kintaro Hattori started his business in 1881. Like the Micro Artist Studio did with Spring Drive, Atelier Ginza's mission is to create truly unique mechanical watches that reflect the determination of Kintaro. With Kodo, Grand Seiko has already charted a path of excellence for Atelier Ginza.
Grand Seiko Kodo is a Boutique exclusive and will be available as a limited edition of twenty pieces starting in October 2022 for $350,000.