All Articles
27. 01. 2022
Grand Seiko 44GS 55th Anniversary Limited Editions SLGA013 and SLGH009
Introducing two limited editions that celebrate one of Grand Seiko's most important designs
2022 marks the 55th anniversary of the 44GS, a design philosophy that established the uniquely Japanese Grand Seiko Style, which to this day remains a critical blueprint for Grand Seiko design. To honor this milestone, Grand Seiko presents SLGA013 and SLGH009, two limited editions in the signature 44GS style featuring the brand's next-generation Spring Drive and Hi-Beat calibers, growth ring dials, and cases rendered in Ever-Brilliant Steel.
44GS in Ever-Brilliant Steel
Ever-Brilliant Steel makes its celebrated debut in Grand Seiko. Hailed as the world's most corrosion resistant steel, this hard-wearing alloy features a PREN (Pitting Resistance Equivalent Number) value that is 1.7 times higher than that of the grade of steel used in most high-end watches. Additionally, as the name suggests, it has a brilliant white coloring that enhances the inherent beauty of Grand Seiko.
To this day, 44GS remains an expression of Grand Seiko's essential characteristics: precision, legibility, beauty, and a form-follows-function philosophy that ensures ease of use and high longevity. Reintroduced in 2013, the modern 44GS case has highly complex geometry and finishing, with an array of flat surfaces and facets—all polished in Grand Seiko's Zaratsu technique. Here, with models SLGA013 and SLGH009 using Ever-Brilliant Steel, that architecture and finishing are center stage.
Both cases measure 40mm across with the Spring Drive at 12.1mm in thickness and the Hi-Beat at 11.7mm. Both are a noticeable reduction in thickness from past 44GS models offered in Spring Drive and Mechanical options. Additionally, each model is fitted with a box-shape sapphire for the first time in a modern-interpretation of the 44GS design. Also, each feature a see-through case back, and matching bracelets (measuring 19mm at the lugs).
Dials inspired by the stars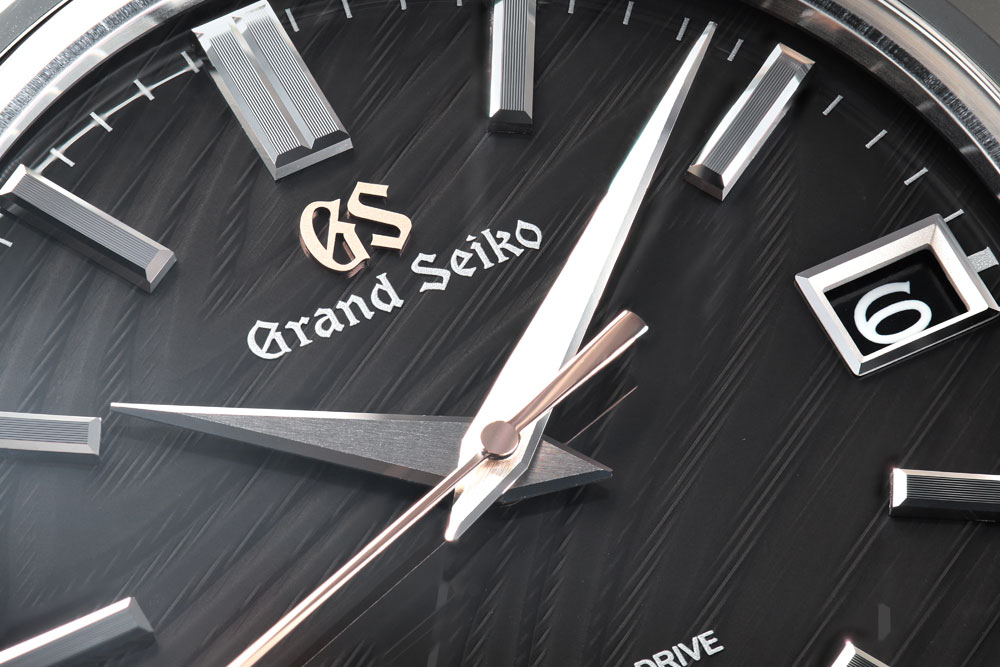 Both SLGA013 and SLGH009 feature the growth ring dials executed in a manner that emulates the vista of the night sky. The deeply etched pattern is that of the elliptical orbit of the stars as they move across overhead, evoking the calm passage of time with its flowing, continuous lines across the dial. In SLGA013, it is rendered dark gray, and SLGH009 is a deep blue. The organic waves of the dial are contrasted against geometric, diamond-cut hands and indexes. The gold-tone seconds hand extends across the dial, adding further contrast against the dark textured dials.
SLGA013, powered by 9RA2
Produced in Shinshu, Caliber 9RA2 delivers significant advances in performance to a platform already noted for its high-performing qualities. Among those advancements are a power reserve of 120 hours (made possible via the movement's Dual-size Barrels) and a precision rating of +/- 10 seconds per month. This accuracy rate is courtesy of a new Integrated Circuit with a built-in temperature sensor and a highly stable quartz oscillator that has gone through a three-month aging process. The latter two elements are vacuum sealed inside a single package, eliminating even the slightest temperature variance between them, thereby ensuring the highest level of accuracy possible.
The movement is also notably thinner than past Spring Drive calibers, coming in around 5mm. This considerable reduction in thickness is made possible largely due to the re-positioning of the Magic Lever, as well as the reduction of the height of the hands above the dial.
9RA2 is assembled by hand in the Shinshu Watch Studio in central Japan. It features a frosted and convex beveled bridge, blue tempered screws, and a power reserve indicator visible through the sapphire case back.
SLGA013 is first 44GS timepiece to feature a 9RA-series caliber.
SLGH009, powered by 9SA5
With its Grand Seiko free-sprung balance, highly efficient Dual Impulse Escapement, and twin barrel construction, Caliber 9SA5, launched in 2020 and produced by the talented men and women of Grand Seiko Studio Shizukuishi, represents the next chapter in Grand Seiko's mechanical watchmaking. The movement delivers a precision rate of +5 to -3 seconds per day and a power reserve of 80 hours while maintaining a rate of 36,000 bph.
The striping pattern here is known internally at Grand Seiko as Shizukuishi River Stripes, and its matte finish works in stark contrast with the ridges, edges, and screw holes, which are sharply cut and polished to a brilliant sparkle. The blue screws and gold tone add bold accents of color. These screws aren't painted or chemically treated, but are thermally blued to achieve the color, and it is the first time this flourish has been present in a stainless-steel model.
Likewise, this is the first 44GS to feature a 9SA-series caliber.
SLGA013 and SLGH009 are limited editions of just 550 watches each, and will be available at Grand Seiko Boutiques and Salons worldwide.
Spring Drive 5 Days SLGA013
Grand Seiko Heritage Collection – 44GS Limited Edition
RM 41,000
Hi-Beat 36000 80 Hours SLGH009
Grand Seiko Heritage Collection – 44GS Limited Edition
RM 43,800