All Articles
11. 10. 2022
Grand Seiko Evolution 9 Hi-Beat 36000 "Mt. Iwate At Midnight" SLGH019
A famed Grand Seiko dial meets a next-generation design.
Mt. Iwate at Midnight
Grand Seiko dials have a well-earned reputation not only for quality, but for their propensity to summon a place, a time, or both. And of these dials, the ones that evoke Mt. Iwate are among the most varied and beautiful. To date, Grand Seiko has created over a dozen watch references featuring the instantly recognizable pattern, produced in a wide range of hues to evoke the many manifestations of Mt. Iwate depending on the time of day or the changing seasons.
The all-new reference SLGH019, available exclusively through the Grand Seiko Boutique Online, features a blue Mt. Iwate pattern dial that takes inspiration from the famous mountain on a dark, clear, moonlit night with stars in the sky. The blue dial has a beautiful but subtle texture, as one would expect from an Iwate pattern dial, with the diamond-cut indexes calling to mind a resplendent firmament.
First seen in the reference SBGL001 of 2006, the Mount Iwate pattern dial is an icon of Grand Seiko mechanical watches. While it is akin to a sunburst in some ways – the namesake pattern emanates from the center, calling to mind a bird's eye view of a rocky, striated peak – it is also far more dramatic and distinctive than a sunburst dial. Its connection to Grand Seiko comes from its proximity to the Grand Seiko Studio Shizukuishi, home of Grand Seiko mechanical watchmaking. The watchmakers can look up from their work and see the inspirational view of the ridged peak from the windows of the studio.
While every Mt. Iwate pattern dial is a cause for excitement, this variation is particularly special. With it, we have the first Mt. Iwate pattern dial to be featured in the new Evolution 9 Style. This makes it a combination of some of Grand Seiko's newest and most exciting features – the thoroughly reimagined and modernized take of the Grand Seiko Style that is Evolution 9, and the 9SA5 caliber this design was conceived to house – and a dial type familiar to Grand Seiko collectors for more than a decade.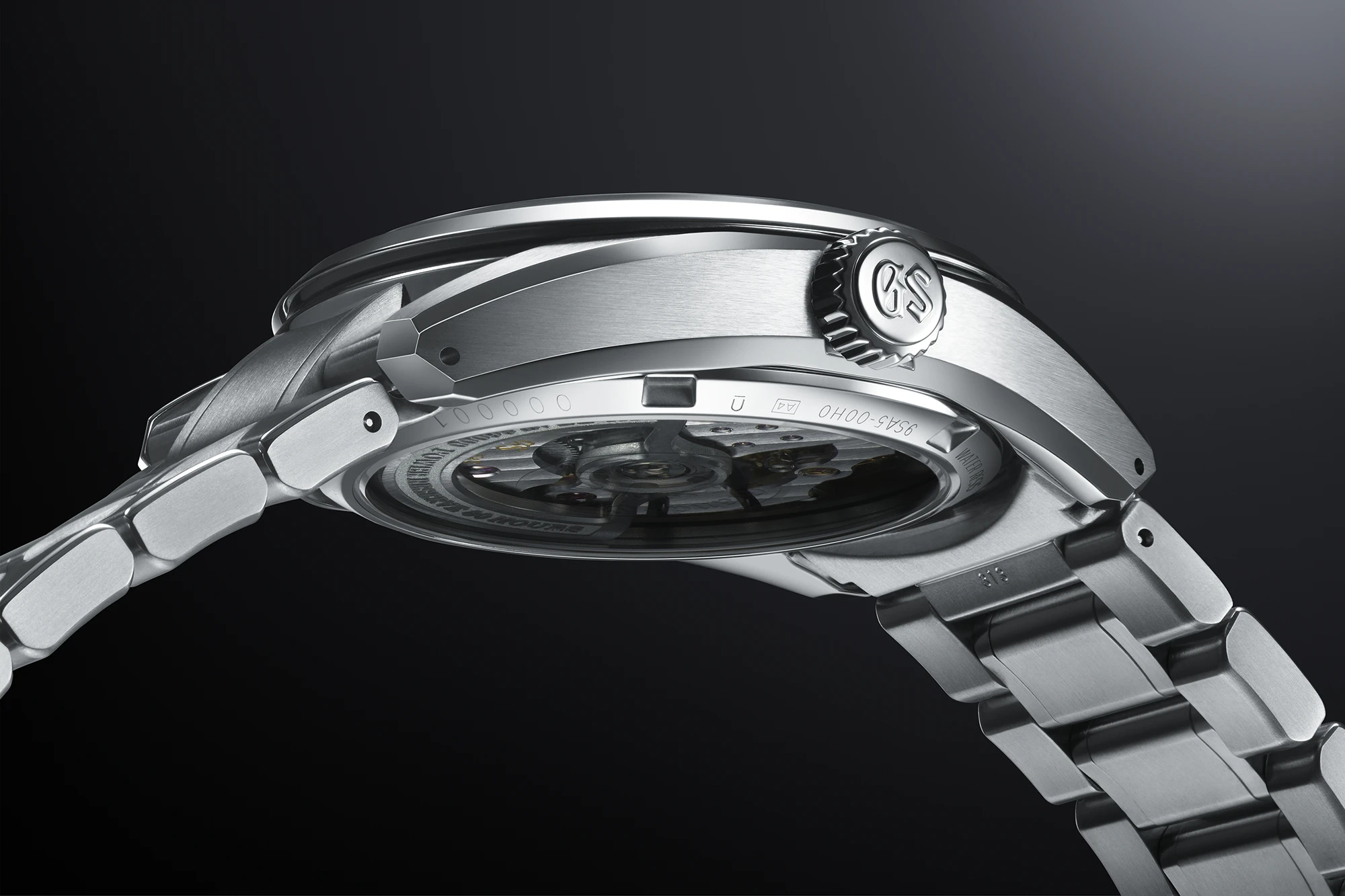 Evolution 9 Style
Though it has since expanded to include some sporty Spring Drive models, the Evolution 9 design was originally born into the next generation of Grand Seiko mechanicals, the 9SA5 caliber with 80 hours of power reserve. Grand Seiko designers faced a challenge: To make a watch that would connect back to the cornerstone of Grand Seiko design, which is the Grand Seiko Style, while charting the future of Grand Seiko design language.
Examining the Evolution 9 cases, bracelets, and dials, one can trace a line back to the iconic 44GS, the watch that embodied the Grand Seiko Style of 1967. In creating Evolution 9, Grand Seiko amplified and enhanced the elements that fans already loved. The hands and indexes are bolder and more distinct. They provide even greater legibility thanks to a truncated hour hand and the minute hand reaching out to the minute track. The 12 o'clock marker is a statement, with an imposing yet familiar shape that is recognizably Grand Seiko but bigger. The case has a lower center of gravity, and the movement sits deeper within it, resulting in a lower crown position.
9SA5 Inside
The mechanical watches of the Evolution 9 collection have all featured the new 9SA5 Hi-Beat movement, and the new SLGH019 Mt. Iwate at Midnight is no different. Caliber 9SA5 is the future of Grand Seiko mechanical watchmaking and represents a giant leap forward and an advancement in watchmaking that is unique and exemplary of the values of Grand Seiko. Not only is the movement outwardly beautiful and high performing with 80 hours of power reserve, but it also features the completely new Dual-Impulse Escapement with free-sprung balance (a Grand Seiko first). It was developed from the ground up by Grand Seiko to be long-lasting and easy to service, in addition to being precise and energy efficient. It's also powerful, thanks to its two barrels arranged in sequence. All of this adds up to an automatic movement with lots of power reserve despite its fast frequency of 10 beats per second.
The "Mt. Iwate at Midnight" SLGH019 is available exclusively at Grand Seiko Boutique Online.