All Articles
05. 11. 2023
Grand Seiko Heritage Collection – 44GS Midsize GS9 Exclusive "Juhyo" SBGW309.
Grand Seiko honors the legacy of the 44GS with three new US exclusive midsized models.
In 1967, a watch was born that would set a style for the future of Grand Seiko and establish its unique design language. This watch's design would become one of the most recognizable in Grand Seiko's lexicon and would prove timeless from generation to generation. Known as the 44GS, it embodied the nine design elements of the Grand Seiko Style.
In 2023, Grand Seiko continues the great legacy of the 44GS with three new creations exclusive to the U.S. market, each featuring a midsize case that debuted last year. All three have dials with Grand Seiko's signature Mt. Iwate pattern, named for the peak visible from the Grand Seiko Studio Shizukuishi windows.
Grand Seiko Heritage Collection – 44GS Midsize "Tsyu" SBGW311.
Grand Seiko Heritage Collection – 44GS Midsize "Hanami" SBGW313.
Grand Seiko Heritage Collection – 44GS Midsize GS9 Exclusive "Juhyo" SBGW309.
Inspired by hanami, or the viewing of cherry blossoms, the pink dial of SBGW313 takes inspiration from the fleeting beauty of flowering sakura. Given Iwate's northern location in Japan, the area offers a unique ability to witness the beauty of these cherry trees later in the spring season. Backdropped against a snow-capped Mt. Iwate, the bright pink bloom of the cherry trees is a sight to behold.
Drawing inspiration from tsuyu, the rainy season that begins in early summer in Japan, the green hue of SBGW311's dial is reminiscent of the lush and fertile landscape surrounding Mt. Iwate.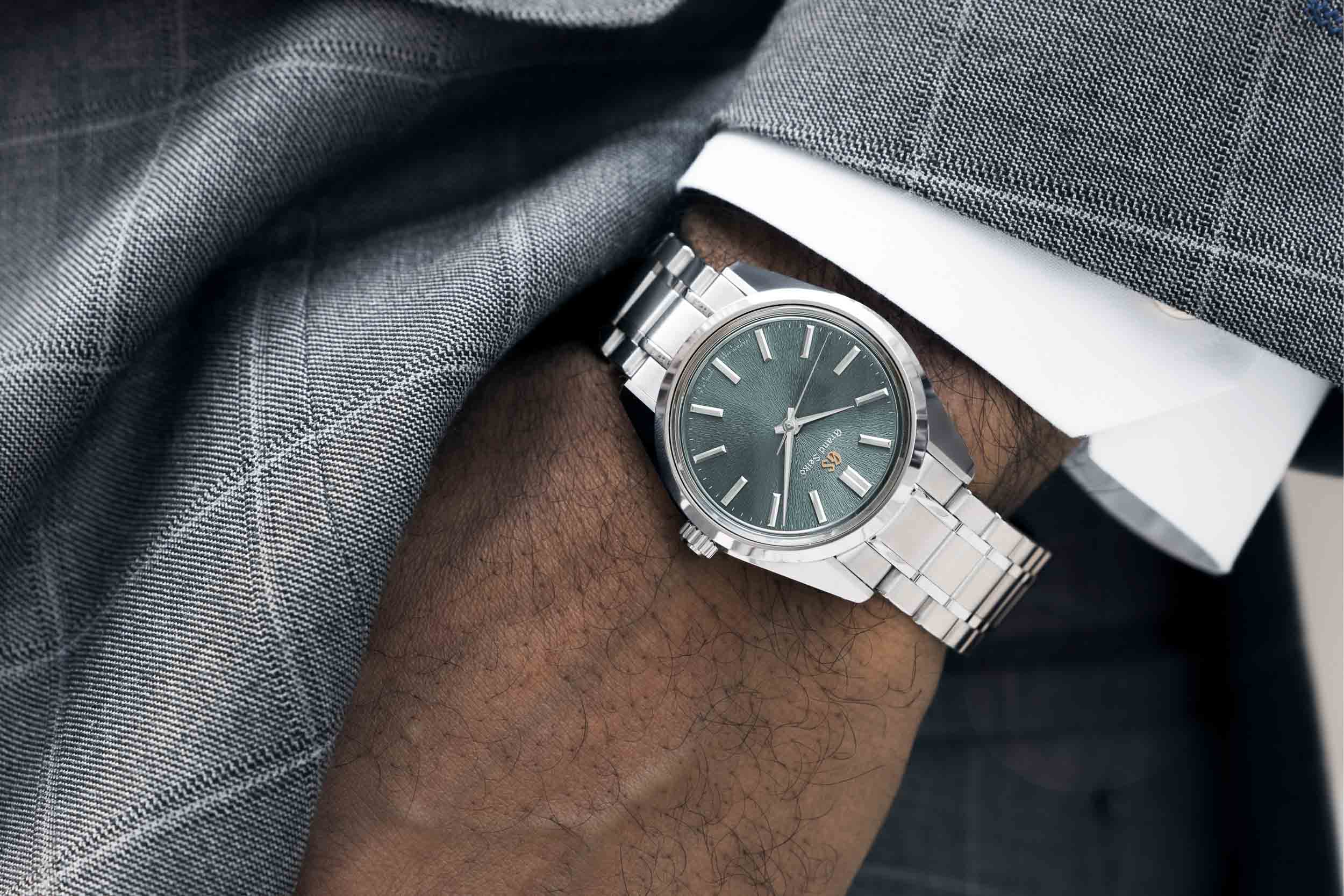 And finally, the SBGW309 is a model exclusively available to members of the U.S. GS9 Club. The cool blue dial of SBGW309 evokes wind-blown, ice-covered trees, which transform into monstrous shapes known as "snow monsters," or juhyo in Japanese. Juhyo can be seen from Mt. Iwate on the neighboring Mt. Hachimantai, creating a distinct scene of winter beauty in Iwate Prefecture.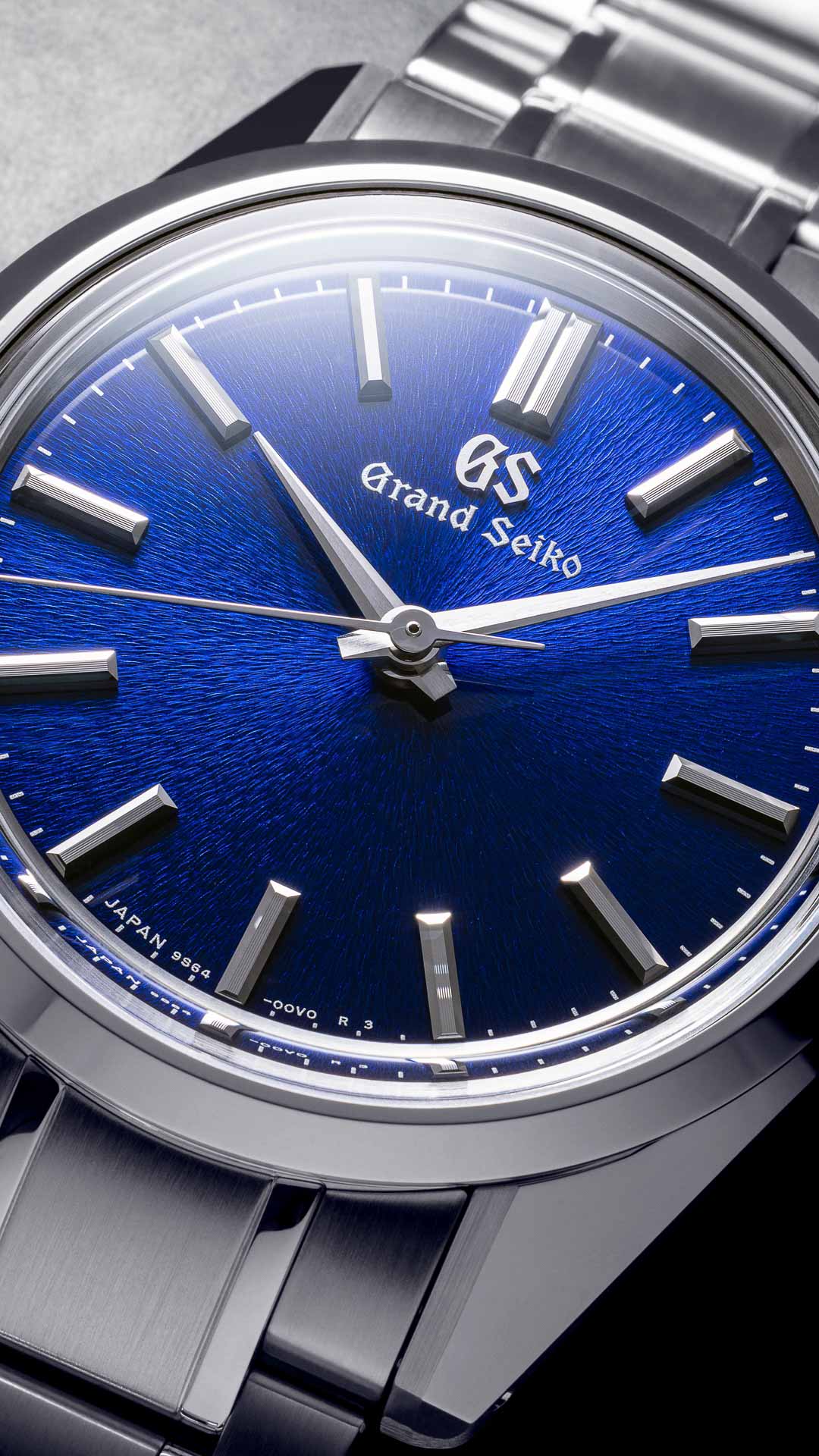 Housed inside each model's 36.5mm x 11.67mm stainless steel case is the manual-winding Caliber 9S64, which has a power reserve of 72 hours and an accuracy of +5 to -3 seconds per day (when static). Each watch's crystal is box-shaped, similar to the model of 1967, yet is made of sapphire crystal and features an anti-reflective coating on the inside surface.
The new SBGW311 and SBGW313 will be available to purchase starting November 2023 at Grand Seiko Boutiques, Grand Seiko Boutique Online, and Grand Seiko Authorized Retailers. The SBGW309 will be exclusive to GS9 Club members at Grand Seiko Boutique Online and Grand Seiko GS9 Club events.
Manual
SBGW311
Manual
SBGW313
Manual
GS9 Club Exclusive – SBGW309